International Ch Araki Chief Krazy Quilt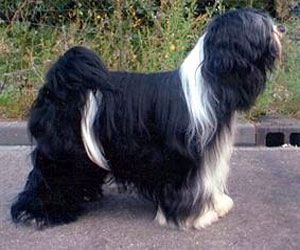 • August 2001 in Belgium owned by May Jannsen & Ken Sinclair. Will return to Britain next year to be campaigned in Britain. • Breeder: Mr Ken Sinclair • Owner: May Jannsen • Colour & Markings: Black & White
• "Quilt" lives with May in Holland and she has campaigned him to his International Champion status.
PARENTS
GRANDPARENTS
GREAT GRANDPARENTS
Dolbrook Disneyland at Earlstoke
Am.Ch Regalia's Naughty by Nature
Am.Ch Regalia's Peter the Great
Regalia's Tickle my Tiger
Ch Dolbrook Pennys from Heaven
Am. Ch Dolbrooks Burnt Orange
Regalia's Dolbrook Fandango
Ch Araki American Way
USA Ch Atisha's Mark of Excellence
USA Ch Atisha's Vsop Napoleon Brandy
Am.Ch Mclean's Madame du Bearie
USA Ch Atisha's Passion for Magic
USA Ch Mclean's Magic Tiger in Tuxedo
USA Ch Charisma Honeynut of Regalia
Champion Araki Chief Krazy Quilt Pedigree