Crufts Champion and AM Champion Araki Fabulous Willy
BEST OF BREED AT CRUFTS 2006 for the 3rd year running
TOP UTILITY DOG ALL BREEDS 2003 – This is the only TT ever to achieve this award.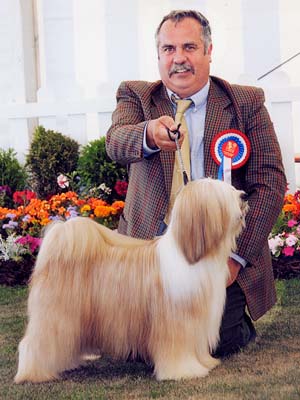 • Champion Araki Fabulous Willy "The Greatest Winning Tibetan Terrier!!"
• Best in Show Crufts 2007
• Breed Record Holder with 45 CC's
• Top TT for 4 years
• 15 Group 1st's at Championship Shows
• Best in Show Contest of Championns
• 3 BIS & 3 Reserve BIS at all Breed Champ Shows
• Top Utility Dog 2003
• Top Sire & Sire of numerous Worldwide Champions.
• Eyes tested clear
• Colour & Markings: Gold & White
• Breeder & Owner: Mr Ken Sinclair
• Co Owned: By  N Smith, J Shaw & Maria Frances
• "Willy" became a Champion at just over 13 months of age. He was Top Tibetan Terrier 2002 & 2003.He was also Top Utility Dog 2003 the only Tibetan Terrier to have achieved this. He took Best in Show at Paignton Ch. Show 2003, and Reserve Best in Show at City of Birmingham Ch. Show 2003, also winning the "Purina" Contest of Champions 2003. He won 8 groups making him the top group winning TT ever in the history of the breed he took another Reserve Best in Show at SKC may 2004.
• One of our proudest moments was watching "Willy" win Best of breed at Crufts 2004 from an overall entry of over 200 Tibetan Terriers, going on to win the Utility Group and compete for Crufts Best in Show 2004. BOB at Crufts 2006 for the 3rd year running & Crufts Utility Group 3. He is the only Tibetan terrier to have won the Utility group at Crufts. We must thank all the knowledgeable judges who have recognized his qualities.
PARENTS
GRANDPARENTS
GREAT GRANDPARENTS
Araki A Proper Birk
Araki of Kourse at Lasang
Fin Int GB Ch Serbalcierro Izar of Araki
Araki Triplicate
Araki Quamari
Ch Araki Arikari at Kybo
Araki Hippopatimus at Penhaid
Araki Summer Rose
Araki Rumpy Pumpy
Ch Araki Apache
Araki Kahyassi Drusilla
Araki Shahzana
Araki Pascali
Ch Araki Masken Kostium
Champion Araki Fabulous Willy Pedigree